29 November 2010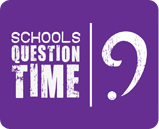 Birkenhead Sixth Form College has got through to the second round of the BBC Schools Question Time Competition 2011. The first phase involved submitting an 800 word application in which we had to choose a suitable Question Time panel and explain why we chose the panellists as well as questions we would ask the panel and finally how we would involve the whole college if we were to get through to subsequent rounds.

Members of the BMore Debating Club and second year History and Government and Politcs students were involved in discussions on choosing panellists. Students had to consider balance, both in terms of age, gender and ethnicity and also opinions and political beliefs. After much deliberation, the panellists we decided on were Frank Field, maverick Labour MP for Birkenhead and chair of the Review of Poverty and Life Chances; Baroness Warsi, the Chairman of the Conservative Party and Minister without Portfolio in David Cameron's government, making her the first Muslim woman Cabinet Minister; Sarah Teather, Liberal Democrat MP and Minister of State at the Department for Education in the coalition government; Steve Levitt, author of Freakonmics and Charlie Brooker, TV satirist and Guardian columnist. Stephen Fry was our choice of Chairperson. Questions covered a range of topics including Britain's involvement in the war in Afghanistan, university tuition fees and EMA, Housing Benefit cuts and lowering the voting age to 16.

The next stage of the competition involves making a 5 minute video of a panel debate. Auditions were held last Friday (26th November) for a place on the panel. As there were so many good entries we have decided to film two debates on different topics and we will choose the best one for submission. (The final decision on who will take part in the debates is yet to be decided).