29 April 2022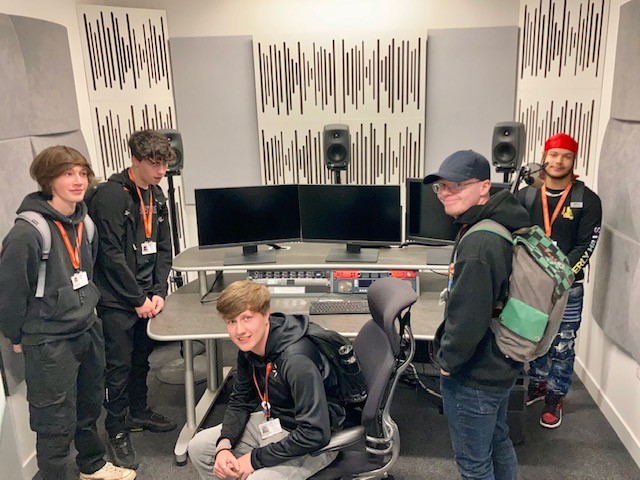 A Level Film Studies students enjoyed a trip to the media hub of the north to learn from experts in the subject at degree level and beyond.
Visiting Salford University's campus on the ground of Media City, home of the BBC, ITV and more, students had masterclass sessions from lecturers and experienced professionals in the field about both practical and conceptual arts within film.
Dr Pete Deakin, lecturer at Salford University's leading Film department, has visited the College to deliver specialist talks to Film Studies students in the recent past, but this was an opportunity for him to deliver his expert insight into Ideology and gender within film in his own back yard in the north of England's centre of media talent.
The students were given tours of the superb Salford University campus beneath ITV headquarters and next door to the BBC, along with further talks about idea generation for short film and editing film for storytelling by a Hollywood editor.
Revis Meeks edited Grey's Anatomy, The Vampire Diaries and Scandal amongst others, and gave the students a fascinating first-hand view of working within the industry, while explaining the technical side of how her role shapes what the audience experiences.
There was also a chance for students to get invaluable tips into applying for places on the university's Film undergraduate course and understand what they are looking for in a portfolio.
The trip was rounded off by a fun tour of the BBC and ITV studios, seeing the Blue Peter gardens and other iconic presenting studios.
Head of Film Studies and Media at Birkenhead Sixth Form College, Julie Edwards, said: "All of the students really benefitted from the day, seeing for themselves what working in the industry looks and feels like. Hearing from both the lecturers in Film and someone actually working in Hollywood was incredible and the students enjoyed every second.
"Seeing the studios and behind the scenes of the programmes and content that they see every day is always fun and interesting, and everything that they experienced is directly related to their work in A Level film. Salford University is a popular destination for our students each year, with their ease of access to so many related workplaces at Media City meaning that we've had former students going on to work at CBBC, the BBC, ITV and many more within the sector."
Film Trip to Media City and Salford Uni - April 2022
To find out more about studying Film Studies A Level at Birkenhead Sixth Form College, click here.