10 October 2017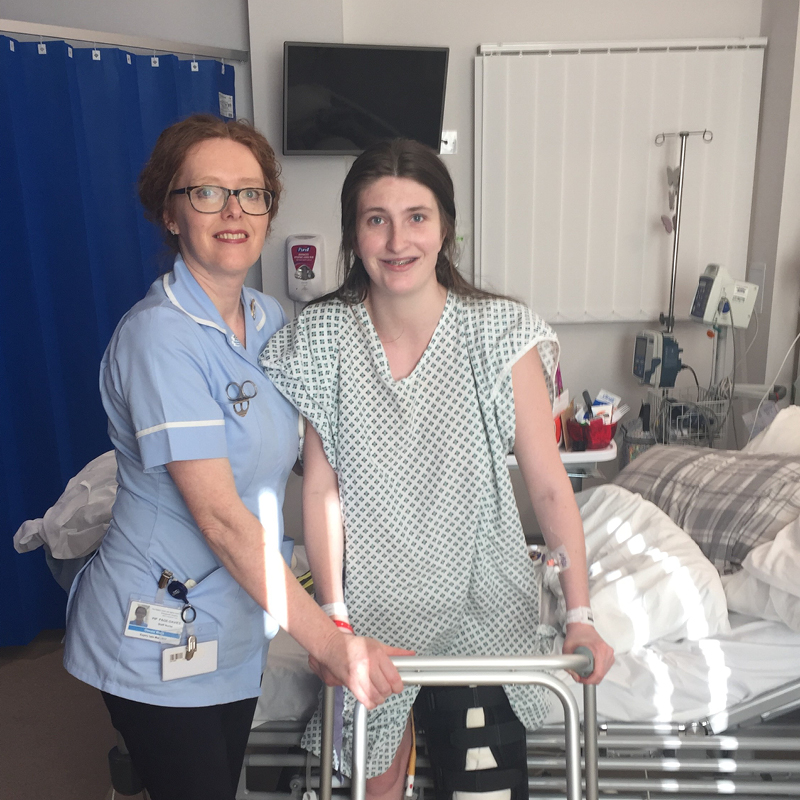 I wanted the opportunity to showcase what I'm about to tell you because I don't think our nurses and our NHS get enough recognition for the outstanding work that they do.
Unfortunately, in March 2017, I was diagnosed with a rare & aggressive tumour in my knee. Prior to it being discovered, I fractured my leg twice: once before getting admitted to my local hospital and again when I was transferred to the Robert Jones and Agnes Hunt Orthopaedic Hospital. I had a really traumatic experience before being transferred to RJAH.
RJAH are currently doing Patient Choice Awards for patients who would like to nominate their 'Hospital Hero'. I nominated Pip Page-Davies and she got shortlisted. As a result of this, it's now down to the public to cast their votes and get her to win this prestigious award.
The reason why I voted for Pip was because I shared every bit of blood, sweat and tear with her.
On the very day I was transferred and when I was in agony and absolute distress, Pip didn't finish her shift on time. Pip stayed until after 10 pm after her day shift to try and make me as comfortable as possible. I think she shared my pain when I was turning her fingers blue that night; she held my hand and tried to ease my pain and no matter how many times I told her I wanted to die, screaming in excruciating pain, and she got me through it all. I couldn't have made it through that particular night without her. As my nurse, Pip respected all my wishes throughout my journey. Once again, I certainly could not have coped if it weren't for nurses like Pip, who are amazing and inspirational people.
Pip shared many special moments during my recovery process with me: when I was terrified stiff and received my biopsy results, to the day that I stood up after my knee and thigh bone replacement operation and walked, to taking my first shower after the operation, to showing me my scar (battle wound as I like to call it!) to the day that I walked down the stairs and out of the hospital grounds.
Pip talked me through the good times and bad times, and whilst I was in hospital I certainly needed lots of "Pip" talks as I felt like I could trust her and listen to her if ever I misheard something, as I am profoundly deaf and can't hear. Pip would always make sure she made others aware they needed to face me when speaking to me, and reiterate what had been said so I never felt left out. I was constantly involved and made aware of everything that happened within my care on Oswald Ward.
Unfortunately, the trauma of what happened that particular night will forever stay with me however the help and support I received throughout the weeks I stayed there will never be forgotten and I am forever in debt to Pip and Oswald Ward.
I think Pip is a very deserving and hardworking nurse and it takes someone special like her to make the NHS a better place for patients like me. Nurses like Pip are worth more than their weight in gold. I know that she is a worthy recipient of this award and I cannot express my gratefulness and gratitude to her enough. Our nurses do a fantastic job and it's important that they get the recognition for what they do. They go above and beyond the call of duty and Pip is my hero and deserves to win!
Please take a moment and spread the word and vote for Pip Page-Davies from Oswald Ward!
Voting closes at midnight on 18th October!
Posted by The BSFC Blogger
Category: The Student Voice
---
Leave a Reply